Last November 2015, I posted an article on the build of my wife's pink AR. You can read about it here – http://the22man.com/2015/11/building-a-pink-ar-the-adventure/
One part that I had not purchased for that rifle was a pink trigger. I waited and hunted trying to find a deal. Finally for Christmas 2015 I just ordered it from CheaperThanDirt.com and paid $200 for it.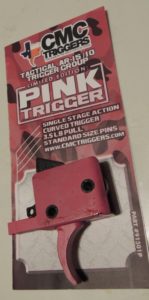 The previous Geissele trigger cost me $165 so my overall rifle cost went up.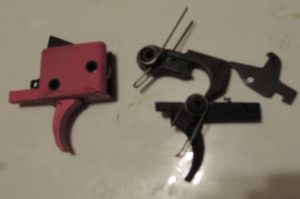 Now, before I installed the trigger, both my wife and youngest daughter told me "no more gun stuff for Christmas, birthday's et al". Some people just don't appreciate the art of building.
In April, I decided that I was going to put the trigger in regardless. That is when I ran into my next problem. The Omni lower pin holes were large not as in diameter but as in extended away from the lower. The Geissele trigger pins did not go all the way through. The way they are made they did stay in place and not walk.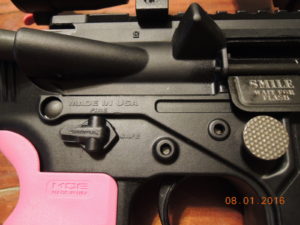 The new trigger used pins that require a screw on each side to hold them in place. Unfortunately the provided pins were way too short and since they were specific to CMC triggers I could not find replacement pins only. Sigh!!
So on August 1st, I decided to replace the lower on the rifle with an Anderson lower I had bought for another build. As you can see by its picture the pin holes are flat to the lower.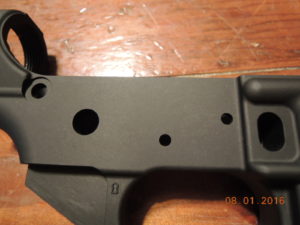 So, I tear down the rifle and then strip the Omni lower and move the parts to the replacement one. First making sure the trigger, its pins and screws would fit and… they did.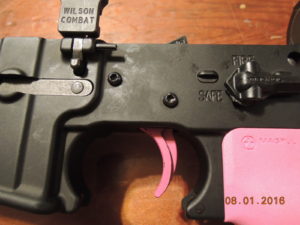 Unfortunately two things came up. First, the paint on the trigger is CRAP! In the image you can clearly see where it came off just by attempting to install it in the Omni and then installing it in the Anderson lower.
The second issues is obvious by the picture, the Omni had a built in trigger guard, the Anderson did not. Fortunately I have a Brownells.com account, jumped on the web, found some other items I "needed" and placed an order.
The new lower cost less than the previous one, the new trigger cost more, and I needed to add the cost of the Magpul MOE Trigger Guard.
Since there is an EOTech lawsuit (http://www.eotechinc.com/return-authorization-request-form and http://www.eotechlawsuit.com/) I removed it from the rifle.
This brings my new total to $1,164.32, less than the retail price of the Crusader rifle from Spikes Tactical
Here is a breakdown of my purchases, remember they spread out from late 2012 through Christmas 2015, so current prices may vary.
Quick disconnect / connect suppressor brake $94.00 Gemtech
Trigger Guard, Magpul MOE $7.57 Brownells
Handguard end cap .625    $10.95  Broavocompanyusa.com
Upper       $72.99  Brownells
Bolt Carrier group    $40.00  trade from Ed for rifle 1,000 primers
"Smile" Ejection port cover    $18.00  Sportsmans Guide
Receiver pins, USA Flag     $20.00  Sportsmans Guide
Magpul Grip core     $9.72  Brownells
Magpul pink handguard     $34.98  Optic's Planet
Single point sling, pink     $15.19  Natchez
AR lower parts kit    $29.97  Cheaperthandirt
XS Sites Tritium front site blade    $45.00  Brownells
Gas Block     $22.87  Brownells
Magpul front and rear sights   $83.94  Brownells
Charging handle     $42.50  Brownells
Front site dent spring, dent, eject cover clip, forward assist assembly            $28.49  Brownells
takedown pivot pin, bolt catch roll pin, mag catch, bolt catch plunger, 60 degree safety          $60.05  Brownells
CMC Trigger, Pink     $199.97 Cheaper than dirt
Stock mount kit , buffer et al   $44.50  Brownells
Gas tube      $12.49  Brownells
Lightweight barrel     $221.43 Brownells
Pivot dent pin      $1.77  Brownells
Anderson lower      $47.94  Wideners