In Nov 2017 I ordered a CBC Industries "Tactical CY6 / 6.5 Grendel and had it delivered to my local gun shop. This is an 18″ barreled rifle. The receipt and paperwork don't tell me the barrel's twist rate.

I chose this cartridge / caliber for two reasons. First was to test it as a pig cartridge for night hunting and second was a couple of us were trying to determine the "best" AR platform caliber for Missouri. In Missouri we have plains up north, pine forest in the south east and foothills in the south west. Hunting Mule Deer up north requires a bit more than a 5.56 and the wild hogs sometimes don't respect that either. We had floated several calibers and the debate, after studying ballistics, factoring in recoil and then barrel length came down to pretty much the 6.8 SPC II and the 6.5 Grendel.
I purchased this brand and model based on a fantastic review of it shooting MOA or better and being well built. https://www.ammoland.com/2017/11/cbc-industries-cy6-6-5-grendel-rifle/
When I picked up the rifle, I noticed it came with a 7.62×39 AR magazine. I emailed CBC and their reply was: "Yes it works with that rifle as well. We currently don't carry Grendel magazines"
After the purchase and before the testing I did some more research on CBC, oh boy, I was concerned. That one favorable review was overshadowed by many poor reviews. My hope was that I got a rifle that was well built.
https://www.thefirearmsforum.com/threads/cbc-industries-stay-away-at-all-costs.201178/
https://www.bbb.org/us/sc/north-charleston/profile/gun-dealers/cbc-industries-inc-0663-34146132
Unfortunately, life got in the way and I was not able to test the rifle or even bring it out of the safe until 2023.
I wanted to test the rifle for accuracy with various loads to see which was the most accurate load. I had purchased a Vortex Strike Eagle 1-8 with a Vortex one piece mount.
I decided to mount that for testing. While mounting it I noticed the stock wobbled. The castle nut was loose. Since I am an AR armor and know how to search the internet, I pulled out my tools and tightened the nut. Then off to the range.
When sighting in a rifle, I use my Caldwell lead sled with a bag of shot that fits the weight holder to keep the rifle steady.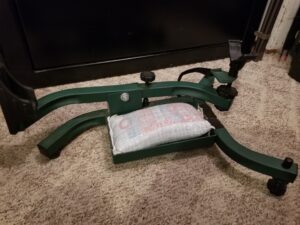 Sighting in at 25 yards with Wolf Military Classic steel case ammo was disappointing, the group was large. I put in one round of premium ammo and it hit 1 ½" high, centered. I assumed it was the Wolf ammo. Out at 100 yards I was getting 4-to-6-inch groups out of good ammo. I tried seven different brands and loads. I stopped in disgust and presumed it was me and or the scope. Time to go home.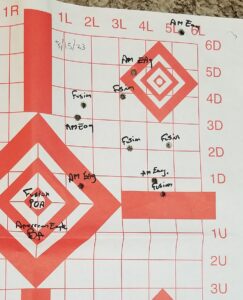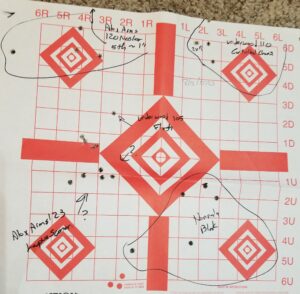 At home I wanted to look over things, trying to take the hand-guard off to check the barrel for tightness I found several of the screws holding it were broken off in the mount. I then decided while looking it over I wanted to put in it a different dust cover and magazine release. They are marked "6.5 Grendel" is all, nothing out of spec or fancy. The mag release went in fine, however the dust cover could not be replaced without removing the barrel, they used a silly way of mounting them instead of the industry standard. Since the screws were stripped, I couldn't install the dust cover. While looking things over for the accuracy issue, I grew more and more frustrated.
After a few days I decided to take the rifle to a gun smith (Anderson Gun Repair) and requested they look it over and see if I was missing anything. The found that there was a lot of gas leaking around the gas block, that the barrel to upper fit was not right.
Contacting CBC resulted in no answer so I paid Anderson to put in a new gas block (BCM), lap and true the receiver, install the dust cover (since the barrel was off), double check and stake the castle nut (I only tightened it). They also mounted and bore sighted the Vortex again for me. Of course, this wasn't free, it added $233.51 to my cost of the rifle.
Sighting in at 25 yards with the Wolf 100 grain fodder I was getting 2" to 3 ¼" groups. With Hornady Black I was getting 1 3/8" and 1 ¾" groups. I decided to swap scopes to a trusted Nikon M-223 2-8 that I had on another rifle (you can see its 5.56 group on the top target in the middle, the three touching).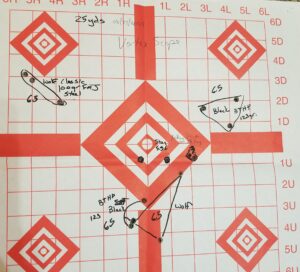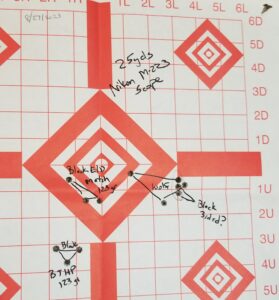 With the new scope I got a 3/4" group out of the Hornady Black BTHP, the Hornady Black ELD Match 123 gr shot a 1 ½" group. Wolf FMJ shot a 2 ¼" group, at 25 yards. Except for the ELD BTHP, those were groups I was not happy with. Amplify them by four to get 100-yard averages and you are getting groups over 4 inches.
On October 4th I emailed CBC industries asking if they had an accuracy guarantee and letting them know the basics of the above. As of October 25th, I still have not heard back from them.
I decided to give things one more try. I mounted my trusty Leupold fixed 10×40. Using some of the ammo listed below, I was once again obtaining 3" to almost 6" groups at 100 yards.
It's my recommendation that you stay away from CBC Industries products until they can fix themselves or if you want a firearm that you will need to fix right out of the box, go ahead and get one. Satire of course.
The ammo tested was: Alexander Arms 129 Hornady SST, Alexander Arms 120 gr BT Nosler, Alexander Arms Lapua Scenar, Hornady Custom 123 Gr SST, Hornady Black 123 gr ELD Match, Hornady Black 123 gr BTHP, Barnes 115 gr TAX-TX BT, Federal Fusion MSR 120 gr, American Eagle 120 gr OTM, Barnes Precision 120 gr OTM BT, Underwood 110 gr Controlled Chaos, Underwood 105 gr Flash Tip, Wolf Military Classic.
Here's more about the rifle.
The stock is nice and supposed to have two areas to hold batteries or whatever you want to stuff in them. The problem was, for me, the left plug kept falling out during testing. I swapped plugs (left for right) and had the same issue. That leaves me with no faith in them. Add to that the design where you are trying to pinch the finger pull part and I can say firmly that I won't use that stock as a battery compartment.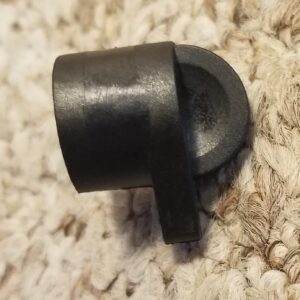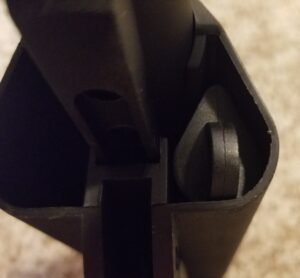 The rifles handguard, held in by 8 screws has plenty of Pic rail for attachments along the top. I would consider a full length one. The sides and the bottom skip a lot of rail (for weight savings?) and add a short piece of rail right by the mag well.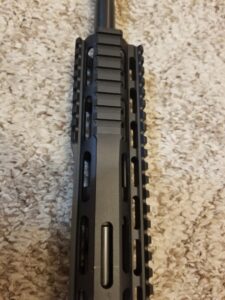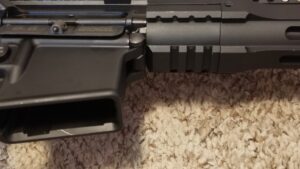 At the end of the barrel was their linear compensator. I can't say much about it one way or another. It is an extra option and extra cleaning.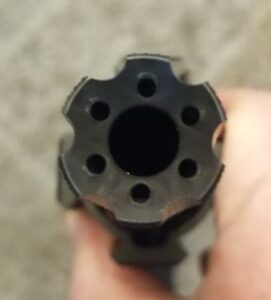 I wish I could say more, I just can't. It's an AR that is inexpensive (Seems to be always on 'sale') and doesn't shoot accurately.

It's my recommendation that you stay away from CBC Industries products until they can fix themselves or if you want a firearm that you will need to fix right out of the box, go ahead and get one. Satire of course.
Until we meet again, keep your booger hook off the bang switch until on target and ready to fire.