Back in October 2012, I decided to build a pink AR for my beautiful bride. Not because pink is a girls color but because she has worked in the breast care arena for many years. My goal was to build it by Christmas, and I wanted to make it as light as possible. Unfortunately parts were hard to find. I had the lower and an EOTech 512 along with a "lower parts kit", several magazines, that was about it.
Back then (2011 and 2012) getting pink furniture was difficult, I could only find Tapco (which I did not like what they had) and Magpul (which was like Bigfoot, hard to find) making it, and then only a piece here or there.
Then the tragic killings in Connecticut occurred and everyone went bonkers and started buying every AR and part around. Prices went through the roof. I just was not willing to play that game.
Since this was a complete build from the ground up, it took me until June of 2014 to finish the build and give it to my wife. Fortunately that was near her birthday.
The parts consist of an OMNI "plastic" lower, Gemtech muzzle break, "M-16" bolt carrier group, Magpul core grip, handguard and stock (all pink), 3x Sightmark magnifier, EOTech 512 (which was painted the wrong color twice by someone I won't be using again), pink single point sling, Black Magpul BUS (gen 2) with Tritium XS front sight, Geissele SSA trigger, pencil thin 1:7 twist barrel and the misc. internal upper and lower parts.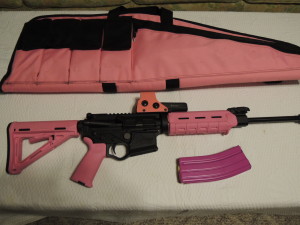 When I presented my wife with her gift, I had only function checked it with dummy rounds so in July we went off to the range to "break in" the barrel and better check the rifle. After 20 rounds in and 10 failures to feed, I found out the front gas block was sliding. Since I did not bring tools, it was back home we went.
It took me until January 2015 to get this AR out again, 6 rounds of silver Bear and 14 rounds of Wolf steel were put through it.
Functioning was fine, however I had other things to do. July 22nd 2015, I took the day off, loaded up a couple of dozen different loads and was going to do a load test and figure the most accurate commercial loads.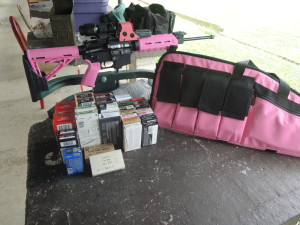 When I disassembled the rifle to run some Frog Lube through it, I noticed the lower was cracked at both pin locations, on both sides of the lower! Sigh!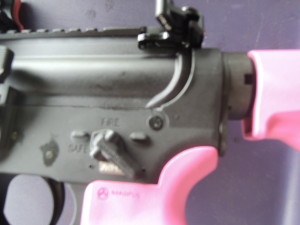 Returning home, I contacted the manufacturer, OMNI, via email. They were quick in response and let me know that was a Generation 1 lower, they warranty replaced it with a Gen 2 lower which has aluminum bedded to add strength.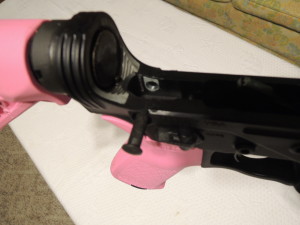 Once the lower was in, I reassembled all the lower parts and in September headed back out to the range. Using a 7x magnifier and the EOTech, I started with the "cheapest" ammo; Winchester white box, wolf steel case 55 and 65 grain, bulk M193, IMI M855, Silver Bear 62 gr, all shot like crap.
Returning in October with SSA, Hornady, Right to Bear, Federal, Black Hills and some others I found the groups were much more acceptable. The Hornady Varmint 55 gr V-Max Moly, Noveske 60 gr Ballistic Glow and Right to Bear Ultra Match 75 gr BTHP were the most accurate rounds. Not what I was expecting.
The rifle, not counting the magazines (several each of "Easter pink", Magpul pink and purple) or the pink rifle case, set me back $1,661.84. Note to self, don't build an AR to "save money". It weighs in at 6 pounds, 11 ounces with the EOTech but not the magnifier.
Well, that should bore you enough for now. Until we meet again, remember what Matt Canovi says "Training is Survival"